Collin County Lawyer for Possession or Use of a Firearm During the Commission of a Violent or Drug Trafficking Crime
In 2021, the Bureau of Alcohol, Tobacco, Firearms and Explosives (ATF) reported that there were 37,003 firearms cases initiated. If you've been charged with a federal firearm violation in Collin County, this can be a terrifying time. You might be facing harsh penalties, including a lengthy prison sentence. You do not have to face this alone.
Contact Rosenthal Kalabus & Therrian at (972) 369-0577 to discuss your case with one of our experienced Collin County federal firearm violations attorneys. We are ready to fight for your rights and your future aggressively.
What Is a Crime of Violence?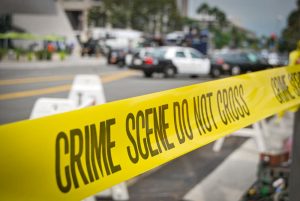 A crime qualifies as a "crime of violence" as defined by U.S. Code when it is an offense that:
Includes an element of physical force threatened, attempted, or used against another person or another person's property, or
Is a felony and, by its nature, involves a "substantial risk" that, in the course of the offense, physical force may be used against another person or another person's property.
Note that physical contact does not have to occur for a person to be charged with a crime of violence.
What Is a Drug Trafficking Crime?
The U.S. Code defines drug trafficking as a felony offense in which a person makes, creates, distributes, dispenses, or has, with the intent to dispense or distribute, either a controlled substance or a counterfeit substance. A person does not have to be caught selling drugs to be convicted of a drug trafficking crime.
Penalties for Conviction of Possession or Use of a Firearm in Certain Situations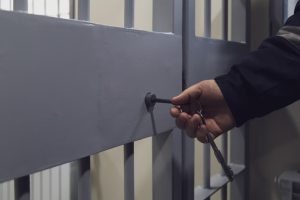 U.S. Code Title 18 Section 924(c) lists the penalties for a conviction of possession or use of a firearm during the commission of a violent or drug trafficking crime. The firearms charges involve mandatory minimum prison sentences, including:
Possession of a firearm during the crime — at least five years
If the firearm was an assault rifle or short-barreled shotgun — at least ten years
If the firearm was brandished — at least seven years
If the firearm was discharged — at least ten years
If the firearm was a machine gun or was equipped with a silencer — at least 30 years
"Brandishing" refers to displaying a firearm to another person for intimidation. This can occur even without directly making the firearm visible to this person. The definition also includes "otherwise make the presence of the firearm known to another person."
Penalties for someone with a prior conviction are even more severe than those listed, potentially including life imprisonment. The specific penalties you may face will depend on your case's details. It's crucial that you discuss these with an experienced criminal defense attorney to understand the implications.
These mandatory minimum sentences are added on top of any other prison sentences for the actual violent crime or drug trafficking crime that was committed. This means that the additional sentences are not allowed to run concurrently with any other sentences.
These sentences do not include the possibility of probation. In addition, a conviction for a federal offense does not include the possibility of parole.
Defenses Against Charges for the Use of a Firearm During Crime of Violence or Drug Trafficking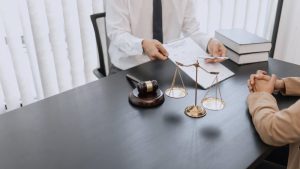 There are several possible defenses against this type of criminal charge, depending on the unique characteristics of a given case. The government will have to prove each aspect of the charge you are facing beyond a reasonable doubt. As part of this, they will have to prove that you had possession of a firearm.
A potential defense is arguing that you never had possession of the firearm. An example of this might be when a firearm is discovered in a car. If there were multiple people in the car, the argument could be made that you were unaware that there was a firearm in the car. Another argument may be that you did not have possession or control of the firearm in such a situation.
It could also be that your rights were violated in some way. This can occur in several ways, including:
If the arresting officer did not read your Miranda rights
If law enforcement did not have a valid warrant to conduct a search
If law enforcement performed a search without your consent, in the case of a search without a warrant
Rosenthal Kalabus & Therrian will examine the specific details of your situation as we start work on your case. We will determine if any of your rights may have been violated. Our lawyers will also evaluate the evidence to assess the strength of the government's case against you.
Why Choose Rosenthal Kalabus & Therrian?
When you have been charged with a federal firearms violation, you need an experienced lawyer who understands how to build a strong defense for you. Our track record speaks for itself. We know how to get results for our clients.
When you choose Rosenthal Kalabus & Therrian to represent you, we will get to work right away building your defense. Our attorneys will examine the government's case to look for potential weaknesses. Our goal is to obtain the most favorable outcome for you.
We are proud to share the testimonials of previous clients we have represented. We will bring this same tenacity to your case. We understand that the stakes are high, and we are prepared to use our experience to fight for you.
Call Rosenthal Kalabus & Therrian Today
If you are facing federal firearms charges in Collin County, you need to speak with an experienced criminal defense attorney as soon as possible. Your rights, your freedom, your reputation, and your future are all on the line.
Call (972) 369-0577 to speak with a member of the Rosenthal Kalabus & Therrian legal team. You can also submit a contact form online. We are ready to schedule a free, confidential consultation to discuss your case.