Collin County Attorney for Possession of a Firearm by a Prohibited Person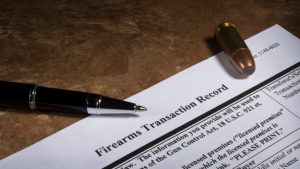 Many Texans proudly enjoy their Second Amendment right to own a gun. However, it is essential to remember that this right is not absolute for everyone. Both state and federal laws prohibit specific individuals from possessing a firearm. Under certain circumstances, if a person is perceived as a high threat to the community, the law will bar them from possessing a gun.
Possession of a firearm by a prohibited person is a serious crime, and the federal government prosecutes offenders aggressively.
If you have been charged with possession of a firearm by a prohibited person, you should seek the help of a strong, experienced Collin County federal firearms violation attorney as soon as possible. The lawyers of Rosenthal Kalabus & Therrian can thoroughly examine your case, and we will build the most effective defense possible to fight a wrongful conviction or imprisonment. Call us today at (972) 369-0577 or contact us online to speak to one of our attorneys about your legal options.
Federal Law on Firearm Possession
Every state has its own laws about firearm possession, but federal firearms laws apply across every state and territory in the country. While some state firearms laws may be more restrictive than federal laws, they cannot be less restrictive.
The source of firearms law across the country is the Gun Control Act of 1968 (GCA). This act sets forth who may and may not own and operate firearms in the United States and is enforced by the Bureau of Alcohol, Tobacco, Firearms and Explosives.
According to the GCA, the only people allowed to possess or sell firearms or ammunition are U.S. citizens and lawful permanent residents at least 18 years of age.
Federal Prohibitions on Firearm Possession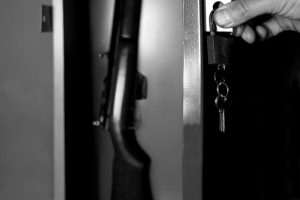 The main component of the GCA that outlines the prohibitions on who may lawfully possess a firearm is found in 18 U.S.C. 922(g). According to this section of the code, individuals are prohibited from possessing firearms under the following circumstances:
They have been convicted of a crime with a maximum possible imprisonment term of more than one year
They have been convicted of a misdemeanor crime of domestic violence
They are subject to a domestic protection order that bars them from harassing, stalking, or threatening a close family member
They have been found to be mentally incompetent or have been involuntarily committed to a mental institution
They are a fugitive from justice
They are an unlawful user of any controlled substance
They have been dishonorably discharged from the U.S. military
They have renounced their U.S. citizenship
They are an alien unlawfully in the U.S.
Are Convicted Criminals Barred from Firearm Possession Forever?
Texas law does allow convicted felons to possess firearms in their own home unless five years have elapsed after the later of either their release from prison, parole, or probation. However, it is important to remember that this will remain a violation of federal law. Federal law enforcement tends to limit the cases they take under these circumstances to the most flagrant violations. However, there are no guarantees that you will be safe from federal prosecution if you have a felony conviction on your record and a firearm in your home.
Those with family violence convictions may possess firearms once five years have passed after the later of either their release from jail or probation.
Penalties for Possession of a Firearm by a Prohibited Person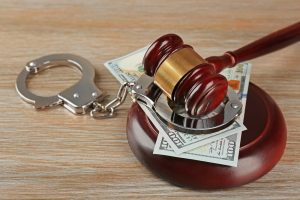 If you are convicted of possession of a firearm by a prohibited person, you may be subject to up to 10 years in federal prison, three years of supervised release, and a fine of up to $250,000. However, if you have three or more prior convictions for violent felonies or serious drug charges, you may be subjected to a mandatory minimum sentence of 15 years.
Furthermore, you may be subject to the following collateral consequences:
Federal felony conviction on your permanent record
Lifetime prohibition from owning or possessing a firearm
Negative immigration consequence for non-citizens
Suspension or revocation of a professional license
Considering the severity of the consequences of conviction for this crime, it is important that you have a strong legal criminal defense attorney who can advocate for your rights and liberties.
Possible Defenses
In some cases, you may prove that your possession of a firearm was justified if you required it to prevent a greater wrong. This defense requires that you are able to prove the following:
You were under present threat of serious or fatal bodily harm
You did not recklessly enter a situation where you would be forced to commit a crime
You did not have other reasonable legal options
There was a direct link between the illegal possession of the weapon and the avoidance of harm
Other possible defenses include:
You were not in actual or constructive possession of the firearm (e.g., you were simply present at a location where a firearm was kept)
You did not consciously know that you possessed the firearm (e.g., if an overnight guest left a handgun in your guest bedroom)
Law enforcement searched your person or premises unlawfully (e.g., the police did not have probable cause to search your premises or your person, thus excluding the firearm from consideration in the case)
Contact an Experienced Collin County Federal Firearm Violations Attorney
If you have recently been charged with possession of a firearm by a prohibited person, you may be at grave risk of losing many of your liberties and rights. It is vital that you work with a criminal defense attorney who has the resources and skills to fight the aggressive federal prosecution you are about to face.
The experienced criminal defense attorneys at Rosenthal Kalabus & Therrian have successfully represented clients in Collin County for years, and we are ready to advocate for your rights and interests too. We will help build the strongest possible case for you, so you have a chance at maintaining your freedom. Call us today at (972) 369-0577 or contact us online to speak with a member of our legal team.
Related Posts: