Collin County Defense Attorneys for Stalking
Have you been arrested for or charged with stalking? Being convicted of this crime can result in serious penalties, and being labeled a stalker can have repercussions in your personal life.
At Rosenthal Kalabus & Therrian, we value your presumption of innocence and want to work with you to fight the charges against you and get them dropped if possible. Our Collin County domestic violence defense attorneys have decades of experience in jury trials on the side of both the prosecution and defense. This unique insight allows us to argue your innocence while knowing how to present your best case to judges and juries in Texas.
Call us today at (972) 369-0577 for a free consultation and case review.
Stalking Offenses in Texas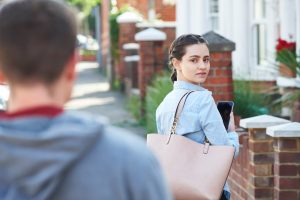 Under Texas law, stalking is a course of conduct that the stalker knows would cause another person to reasonably fear for their life, feel threatened, or fear for the safety of their family or property.
The stalking victim does not have to fear for their own life or health. They could also fear the stalker could harm, threaten, abuse, harass, annoy, alarm, or offend a family or household member.
A stalking victim can be a person in a dating relationship with the stalker or a member of their household who is in fear of bodily injury or death or who is being harassed, tormented, embarrassed, alarmed, annoyed, or offended. Anyone can be a victim of stalking, even if they only fear that their property will be negatively affected or damaged.
Threats can take many forms, and courts understand not all threats are black and white. Any implied threats or threatening actions that reasonably imply potential harm to a victim can be used as a basis for a stalking prosecution.
Is Stalking a Felony in Texas?
Stalking is a serious crime, and the sentencing guidelines treat it as such. A first offense of stalking is a 3rd-degree felony, and a repeat offense will land you a 2nd-degree felony. A similar offense under federal or another state's law can count as a repeat offense, even if Texas law differs from the location where your previous conviction occurred.
The Texas Penal Code Punishment by Offense Classification indicates that 3rd-degree felonies have a minimum sentence of two years, a maximum sentence of ten years, and a $10,000 potential fine. Second-degree felonies have a minimum sentence of two years as well but a maximum sentence of twenty years, with the same potential fine.
The length of your prison sentence will depend on previous criminal convictions, the seriousness of the stalking behavior, and the strength of your legal defense in court. The attorneys of Rosenthal Kalabus & Therrian are experienced defense trial lawyers who will protect your rights, fight to get charges dropped and cleared off your record, and work to minimize the prison term where dismissal isn't possible.
Defenses Against Stalking in Texas
In order to get a conviction in Texas, prosecutors must prove beyond a reasonable doubt that:
Multiple incidents of purposeful behavior form a pattern and demonstrate a continuity of purpose.
The conduct was directed at one specific person.
The defendant knew their alleged actions would cause the person to be fearful or emotionally distressed.
A reasonable person on the receiving end of the conduct would feel fear or emotional distress as a result of the defendant's alleged activity.
Our attorneys will work to build a legal defense that argues one or more of these conditions is not met. Possible defenses include:
False allegations — Instead of arguing that the prosecution cannot prove one or more of these stalking requirements, we can argue that all aspects of the case, including specific key facts that the prosecution claims as true, are false. For example, embittered ex-spouses or partners can allege that you stalked or threatened them even if the scenarios did not occur at all.
Insufficient evidence – We could argue that the prosecution has not gathered enough evidence to prove that you engaged in stalking or that the conduct amounted to stalking, or that the alleged victim actually felt fear or emotional distress.
Mistaken identity – Maybe the alleged stalking victim did suffer harassment, but not from you. Stalking does not only include situations where a victim knows and has an intimate relationship with the suspected stalker. A coworker might place the blame at your feet if they receive threatening messages or notes at work and jump the gun in accusing someone.
That wasn't stalking – Perhaps someone you had a relationship with does feel threatened and identifies you as the stalker. If you want to make amends for previous wrongs and put the past behind you, a letter and bouquet of flowers might seem innocent to you, but someone can still claim to feel threatened. If the prosecution cannot establish a pattern of similar acts, we can successfully argue that the actions were not stalking or part of a harassment campaign.
Police gathered evidence illegally – If law enforcement didn't have probable cause or a warrant to gather particular evidence, your attorney could act to have that evidence excluded because it was improperly obtained.
Consent or invitation – If the alleged victim consented to or invited the attentions they later declared were unwanted, it would be difficult for them to say they were stalked or harassed.
No matter the facts of your case, the sooner we can begin building a defense, the better. We want to provide you with the best chance at a bright future by working hard to defeat the charges against you.
Contact a Collin County Stalking Defense Attorney Today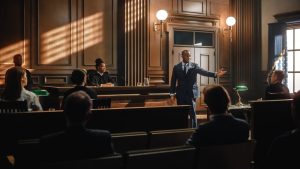 At Rosenthal Kalabus & Therrian, we are aware of the immense stress you are under when you've been arrested for or charged with a serious crime like stalking.
Contact us today by calling (972) 369-0577 or through our website for a free consultation as soon as you can after you've been arrested for stalking. We will begin building a defense to protect your rights and presumption of innocence under the law.