Collin County Unfair/Wrongful Conviction Lawyers
Receiving a guilty verdict can be utterly devastating. This is especially true if you didn't commit the crime or if errors by the trial court or prosecutors deprived you of a fair trial. Fortunately, you may have the right to pursue overturning an unfair or wrongful conviction. You deserve experienced legal counsel who can advocate for your rights. If you or a loved one have suffered a wrongful conviction in Texas, you can fight to clear your name and regain your reputation and freedom. Contact Rosenthal Kalabus & Therrian today for a confidential case evaluation with our criminal defense lawyers. Learn how our firm can help you or your loved one overturn an unfair or wrongful criminal conviction.
Understanding Wrongful Convictions in Texas
Although the criminal justice system should only convict a defendant proven guilty beyond a reasonable doubt, prosecutors, judges, and juries make mistakes that can lead to wrongful convictions. A wrongful conviction may occur when errors during a criminal prosecution deprive a defendant of their civil and constitutional rights. That leads to a fundamentally unfair trial. Wrongful convictions can also involve the conviction of an innocent person. This can happen due to errors that prevent the jury from hearing exculpatory evidence, juror bias, or jurors voting to convict despite having reasonable doubt about a defendant's guilt.
The Role of Legal Representation in Overturning Wrongful Convictions
The process of overturning a wrongful conviction involves complex legal procedures. You also need substantial evidence to show that errors during prosecution deprived you of fundamental rights or to prove your innocence. Experienced legal representation can give you the best chance of successfully overturning your conviction. A skilled attorney can help you obtain a new trial or dismissal of your charges. An attorney can help you evaluate your legal options for overturning an unfair or wrongful conviction. Those options include filing post-trial motions, direct appeals, or post-conviction petitions. Legal counsel can also assist you with investigating the trial proceedings or your underlying charges to secure evidence of legal errors. They can uncover bias/prejudice that resulted in an unfair trial or evidence of your innocence.
Your attorney can also help you prepare post-trial motions, notices of appeal, or applications for writs of habeas corpus to pursue a reversal or vacatur of your conviction. Your lawyer can also advocate at a hearing or oral argument to resolve your motion, appeal, or habeas corpus application.
The Process of Seeking Post-Conviction Relief in Texas
Wrongfully convicted criminal defendants have several options for seeking post-conviction relief. After a verdict but before sentencing, a defendant can file a motion for a new trial. That requires proving that some error occurred during the proceedings. Ultimately the error resulted in a fundamentally unfair trial. Errors that may result in a new trial include erroneous evidentiary rulings by the trial court. Prosecutorial misconduct (including withholding exculpatory evidence or making improper statements during opening/closing arguments). Or juror bias/prejudice.
After sentencing, a defendant can file a direct appeal to raise errors made by the trial court, including erroneous rulings on motions. If the appeals court agrees that an error occurred that could have influenced the trial's outcome, the court can afford relief such as resentencing, a new trial, or even dismissal of charges.
Writ of habeas corpus
A convicted defendant can file a writ of habeas corpus as a last resort to challenge a conviction or sentence. In a habeas corpus proceeding, a defendant must show that a fundamentally defective procedure during the trial deprived them of their constitutional rights, such as receiving ineffective legal counsel. A writ of habeas corpus can also allow a convicted defendant to provide evidence of their innocence. Most writs of habeas corpus arise from newly discovered evidence that a defendant obtains following their conviction that they could not have obtained before their trial and conviction.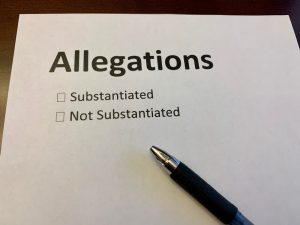 A habeas corpus proceeding begins when a convicted defendant files an application for a writ of habeas corpus and serves a copy of the application on the state. The state can file a written answer to the application. The state's failure to file an answer has the effect of deeming the writ claims denied. The court will review the defendant's application to determine if it raises any cognizable claims for relief. The court will dismiss any application that raises only frivolous claims. If the court identifies any viable claims, it will issue an order identifying those claims and requesting the parties submit evidence. The court may receive written exhibits or witness testimony or grant a hearing. After making findings of fact and conclusions of law, the court will deny or grant relief to the defendant.
How Our Firm Fights for the Wrongfully Convicted
At Rosenthal Kalabus & Therrian, our criminal defense attorneys have extensive experience advocating for the rights of wrongfully or unfairly convicted defendants. We know that post-conviction relief usually represents the last chance for a convicted person to overturn a wrongful conviction. Defendants or their families can contact our firm 24/7, as someone will always answer your call to schedule an appointment, provide legal advice, or update you on your case status. We have the knowledge and resources to handle any criminal case. Big or small, you can expect us to devote our total effort to fighting your wrongful conviction.
Founding partner Jeremy Rosenthal leads our legal team, using his experience as a prosecutor to develop tailored case strategies and arguments supporting clients' efforts to obtain post-conviction relief. He has received recognition from Texas Super Lawyers, an honor conferred on only a small percentage of Texas attorneys. He also serves as the president of the McKinney Bar Association and on the board of the Texas Criminal Defense Lawyers' Educational Institute. Our firm has also received recognition from Expertise.com as the Best Criminal Defense Attorneys in McKinney and Frisco, while McKinneyOnline.com has also voted us as McKinney's Best Law Firm.
Taking the First Steps Towards Justice
Experienced legal advocacy can help you overcome an unfair or wrongful conviction. Call Rosenthal Kalabus & Therrian today at (972) 369-0577 for a confidential consultation to speak with our criminal defense attorneys about overturning a wrongful conviction and getting the help you need to protect your reputation and future.
Related posts