Collin County School Zone Violation Federal Firearms Defense Lawyers
If you were arrested for or charged with federal school zone firearms violations, you need representation by your side right now. Even though U.S. citizens have the right to bear arms, the government has placed some boundaries on those rights for the protection of other citizens. Children are among those protected by these laws.
Dealing with federal prosecutors is never a pleasant experience. You need the skilled Collin County federal firearms violations attorneys of Rosenthal Kalabus & Therrian to protect your rights and work to build a case to reduce or dismiss the charges.
Contact us today without delay at (972) 369-0577 for a free consultation.
Federal School Zone Violations and Exceptions Explained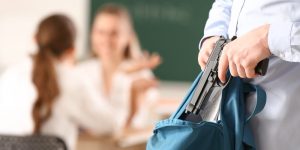 Congress created the federal law prohibiting the possession or discharge of a firearm in a school zone in order to combat violent crime in school zones. Under this law, "possession" means not just that a person has a weapon in hand or on their body but also that a firearm is within immediate reach. "Immediate reach" could be in a backpack, handbag, or vehicle. A person does not have to have the intent to use the firearm to be in violation of the law.
There are five main exceptions to this law. Individuals can:
Possess guns on private property that is not part of school grounds
Possess a firearm in a school zone if they have a license to carry a firearm from the state where they reside, and a background check was part of the licensing procedure
Possess and transport unloaded and safely secured guns
Take guns onto school property as part of a program approved by the school
Possess guns on school property if they are an active law enforcement officer on duty
While these exceptions are granted under federal laws, state laws may further restrict firearms possession in school zones.
Federal Violations vs. State Violations
Federal laws and restrictions cannot be reduced or made less strict by state laws. However, state laws can add additional restrictions to those already set forth by the federal government.
For example, Texas law allows gun owners to travel with a gun near a school, such as on an adjacent public road or parking lot, as long they are not on the physical premises of a school or educational institution. Since Texas allows licensed gun owners to handle a gun in this manner, and the federal law provides exceptions for licensed gun owners in their respective states, possessing a firearm in this manner is not illegal.
Additionally, Texas recently passed a law that allows gun owners to carry a concealed handgun on the campus of a private or independent higher education institution if they have a license to carry.
Potential Penalties for Possessing a Firearm Within 1000 Feet of a School Zone
The penalties for this charge are a maximum prison sentence of five years, a maximum fine of $5,000, or both. A conviction under this law can result in the loss of the defendant's firearm rights. That means the defendant might not be able to buy, have, or carry firearms in the future.
Another result of a conviction is damage to a person's reputation and livelihood. A conviction could make it difficult to find housing, obtain higher education, or even get a job. Some employers won't hire someone with a criminal record. In some cases, a professional license can be revoked because of a conviction.
Possible Defenses for Federal School Zone Firearm Violations
Most defenses to federal school zone firearm charges rely on the list of exceptions provided by the statute. Arresting officers might be unaware of any agreements you have with school officials that permit you to carry a weapon on the premises, or there might be an error in their system that makes you appear unlicensed.
In these situations, your federal firearm violations attorney can quickly help clear up the situation and convince the prosecutors to discontinue any arrest and charging proceedings.
If, however, you did bring an unlicensed gun into a school zone, you still have defenses available to you. As federal law convictions require you to knowingly bring the gun onto the premises, your attorney can argue your innocence by showing you were unaware that you were in possession of the gun. Your attorney could argue that the school zone boundaries weren't marked correctly.
Other defenses include that you were lawfully in possession of a firearm or had a valid concealed carry permit or that you were acting in self-defense or the defense of others. If you had a reasonable belief that someone else was in imminent danger, the charges could be reduced or dismissed.
Your attorney could also investigate to determine whether the search and seizure of the firearm was illegal. If law enforcement obtained evidence without a warrant or probable cause, the evidence could be suppressed, which could weaken the charges against you.
How a Criminal Lawyer Can Help with Your Federal Firearms Case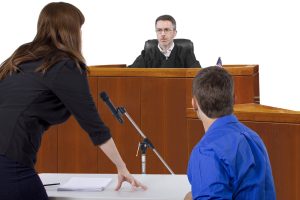 America is no stranger to firearm tragedies at schools. Officials will pursue your case vigorously if they suspect you had bad intentions.
A criminal attorney can investigate the circumstances surrounding your arrest. They can work to craft the best defense possible in your situation. They could attempt to persuade prosecutors that one small mistake shouldn't ruin your life and future prospects.
Federal court systems and laws are highly complex. The confusion surrounding the interconnectedness of federal and state gun laws means you should always discuss your legal options with an experienced federal firearms violations lawyer. Their experience representing clients in similar situations gives you the best shot at beating these no-nonsense federal charges.
Contact Our Collin County Federal Firearm Violations Attorneys Today
You don't have time to waste when federal prosecutors are pushing for a confession and conviction. As soon as you are able, contact the skilled school zone violation federal firearms defense attorneys of Rosenthal Kalabus & Therrian for help. We offer free consultations that give you immediate access to our wealth of knowledge surrounding federal firearms laws. You can reach us by phone at (972) 369-0577 or contact us online today.