What Is a Prohibited Weapon in Texas?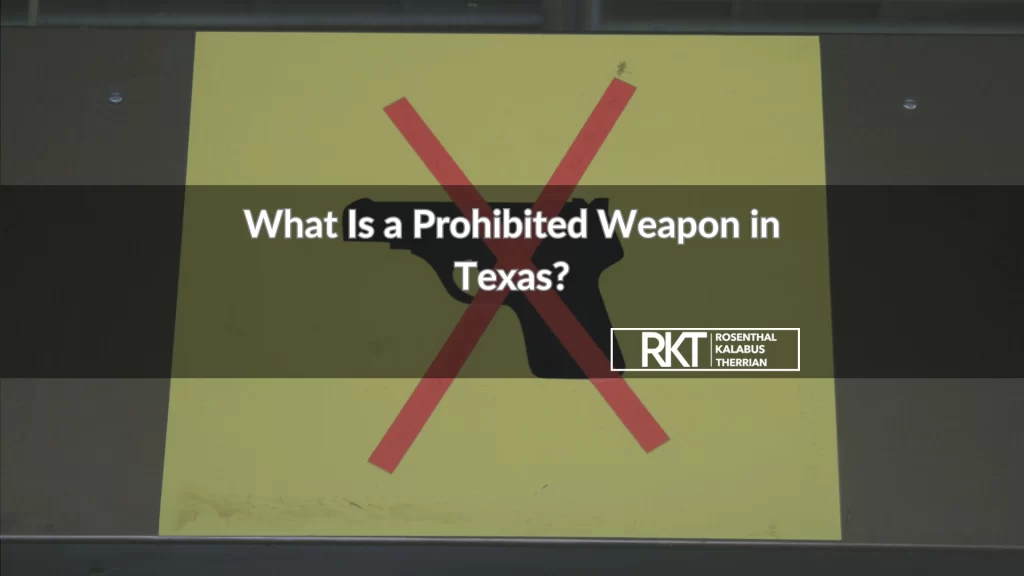 Texas has a reputation as a Second Amendment-friendly state. However, the right to own and carry a handgun or shotgun does not automatically apply to other kinds of weapons. Residents in Collin County should be aware that they might have illegal weapons under Texas law. Below are some prohibited weapons in Texas.
Prohibited and Restricted Weapons
Aside from brass knuckles, the Penal Code also bans residents from possessing the following weapons:
armor-piercing ammunition;
chemical dispensing devices, except for personal protection devices such as pepper spray;
a "zip gun," i.e., an improvised firearm; and
a caltrop, spike strip, or other tire deflation device.
Certain weapons are prohibited unless they are registered with the U.S. Bureau of Alcohol, Tobacco, Firearms and Explosives:
machine guns;
explosives, including bombs, rockets, mines, and grenades;
rifles with a barrel length of less than 16 inches;
shotguns with a barrel length of less than 18 inches;
altered or "sawed-off" shotguns with an overall length of less than 36 inches; and
firearm silencers.
Anyone who possesses, transports, or buys and sells any of the weapons listed above can be charged with a third-degree felony, except for zip guns, considered a lower-level state jail felony. In Texas, the maximum penalty for a third-degree felony conviction is ten years in prison and a $10,000 fine.
Illegal Carrying of Handguns, Knives and Clubs
Finally, certain weapons are legal to possess and carry on their property, but not in public. This applies to handguns as well as certain knives and clubs.
Illegal knives include:
any regular knife with a blade of more than 5.5 inches;
daggers;
throwing knives;
swords; and
spears.
Illegal clubs include:
blackjacks;
nightsticks;
mace; and
tomahawks.
Most offenses under this category are considered Class A misdemeanors.
Incarcerated on an Illegal Weapon Charge? We Can Help
Being in jail or prison is a nightmare, but there's legal assistance for incarcerated individuals in Texas. Remember that even in confinement, you have rights; a defense lawyer is your champion.
Dangers Within Jail Walls:
Some issues people in jail or prison commonly face include:
Inmate Violence: Many inmates must deal with threats from fellow prisoners. From gang coercion to physical assaults or even worse, danger often lurks in close quarters.
Medical Neglect: Inadequate access to medical or mental health care can escalate existing health issues for people in jail or prison.
Official Negligence: Overcrowded conditions and neglect by jail officials can cause living standards to plummet in jails or prisons. Inmates might grapple with unsanitary habitats, inadequate water, or endure extreme weather without proper climate control.
Power Abuse: Tragically, some officials misuse their authority. Inmates may face physical harm, cruelty, or even torture in environments where misconduct goes unchecked.
Your Lawyer, Your Advocate:
If you are having problems in prison or jail, here are some steps we can take on your behalf:
Appeal Convictions: Were there errors in your trial? A lawyer can push to overturn the verdict.
Safeguard Your Rights: You deserve to have your legitimate grievances addressed. Our team can protect your lawful rights to proper care and safe living conditions.
Seek Sentence Reduction: Whether through pinpointing errors during sentencing or advocating for parole, our attorneys can explore avenues for reducing your incarceration.
Why Choose Rosenthal Kalabus & Therrian?
Our firm goes above and beyond for our clients, even during incarceration. We are accessible 24/7 to help you navigate the legal maze and advocate for your rights. Furthermore, we have former prosecutors on our team who can bring their experience to your case. Let us stand by your side through this ordeal.
Collin County Attorneys on Your Side
Call us if you are arrested for any offense related to unlawful possession or carrying of a weapon. You must speak with a Collin County criminal defense lawyer immediately. A misdemeanor conviction can have serious personal, financial, and legal consequences. You have the right to work with counsel who will make sure the police and the courts treat you fairly. Contact the offices of Rosenthal Kalabus & Therrian today at (972) 369-0577 to speak with a Collin County criminal defense attorney who knows how to deal with weapons charges.